Trips and Excursions from Ouarzazate
Ouarzazate, also called The door of the desert, is situated south of the High Atlas Mountains and is the last city before the desert. In city has a lot of prominent kasbahs and buildings for which the area is known. It is also an important holiday destination in Morocco as a base for excursions across the Draa Valley and into the desert. The village Ait Benhaddou west of the city is a UNESCO World Heritage Site and well worth a visit to see the Berber architecture. This area is a noted film-making location, with Morocco's biggest studios inviting many international companies to work here like director Martin Scorsese. Going southeast you have the real desert and the largest group of sand dunes in this area, Erg Chegaga. From Ouarzazate you can make also some excursions via the Middle Atlas (Todra Gorges).
ONE DAY TRIP TO THE OASIS OF FINT BY 4X4  80 € / person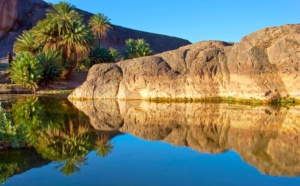 This is an exceptional trip to a beautiful secluded oasis passing deserts and mountains of the surrounding areas of Ouarzazate. The water descends from the snow melt in the mountains and fills the rivers in this hidden fertile location. Huge rocks surround it to protect and serve as a boundary. At night frogs form a chorus under the star filled skies. A tranquil place to come and enjoy lunch with a local Berber family. In the afternoon we visit the Kasbah Tifoultoute. This impressive fortress belonged to the family of Thami El Glaoui, Pasha of Marrakech from 1912 to 1956 and is said to be over 300 years old.
Private tour every day. Please feel free to get in touch with us, that ask about any questions.
---
DISCOVER THE HOLLYWOOD OF AFRICA  60 € / person

Our day will be devoted to visiting historical monuments, the cinema studios, the film museum of Andromeda, and two exceptional Kasbahs. Kasbah Taourirt, former Glaoui residence, and not to be missed, Kasbah Ait Benhaddou, UNESCO heritage center and set location for many superb movies including the well known Gladiator, Kingdom of Heaven and Prince of Persia. Life goes on inside this fortified town as 8 or 9 Berber families still live here, preserving the architecture and culture, the heritage and rhythm of life.
Private tour every day. Please feel free to get in touch with us, that ask about any questions.
---