Accommodation
Morocco Gnawa Tours offers to the travelers an extremely appealing range of year-round accommodations, including trendy medina houses, world-class luxury hotels and beach resorts, desert and mountain kasbahs, and grand sultan palaces. Luxury options have increased considerably over recent years, but there are still plenty of mid to lower-range accommodations as well. Advance reservations are recommended during the holiday season from June to September, as well as over the Easter and Christmas / New Year periods. This applies year-round in Marrakech. You'll also need to prebook if you want to stay in a Medina maison d'hote, where it's almost geographically impossible to simply arrive and ask for a room.
---
HOTELS in Morocco are distinguished between those that are classified by the Moroccan tourist board and those that aren't. As in most countries, the government's hotel-rating system means that establishments are awarded stars for the presence of certain facilities – pool, restaurant, elevator, and so on — more than for standards of service and luxury. Thus, it is not always true that the accommodations with the most stars are necessarily the most comfortable or atmospheric. In Morocco, it's best not to rely too much on the star system, as inspections of classified hotels are erratic, and regardless of their star rating, hotels can charge whatever they wish. Unclassified hotels tend to be inexpensive places, usually with communal showers and toilets, few facilities, and in the cities are often located within the medina.
---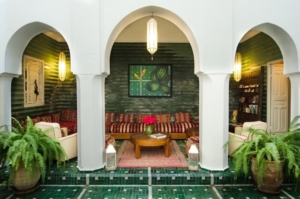 GUEST HOUSE Morocco's other major style of accommodations is the guest house, or maison d'hote. Generally, maisons d'hote are in the expensive and very expensive price range, offering services similar to what you would expect from a four-star hotel. Initially concentrated within Marrakech, but now found in great number throughout the country, Morocco's medina maisons d'hote – simply called riads in much travel literature – have become one of the world's most chic accommodations styles. They are generally owner managed, and each has its own distinct soul that is a personal reflection of the owners themselves. Inside you're more than likely to find romantic bedrooms, personal service, fantastic rooftop terrace views, and delicious breakfasts (if not dinners as well), all in a relaxed, intimate setting amidst the hustle and commotion of the medina. Most medina maisons d'hote can only be accessed by foot. Staying within the medina offers the benefit of being within walking distance of the majority of sights and attractions, and presents an authentic experience of medina life.
---
ABOUT OUR ACCOMMODATION
The accommodation will be in single / double / triple en suite rooms at hotels, trips (homes made with stones or adobe in villages) old renovated riad or newly manufactured, but strictly managed and owned by local people (in accordance with the responsible tourism), in nomad camps (camps with nomadic carpets, curtains in place with double beds, bathrooms, showers, restaurant tent, lighting with solar panel system) managed by people of the desert, a deep knowledge of the local culture and tradition. An authentic riad is first of all an old mansion located in a main Moroccan Medina of the imperial cities. It consists of a house with an inner courtyard with a garden and fountains in the patio. In fact, the word "riad" in Arabic means garden. With our agency you will have the option to stay in the delightful traditional riad, which are cultural representations of temporal paradise of Hispanic-Moorish style. The riads are often in proximity to a traditional hammam where you can relax during your stay.
---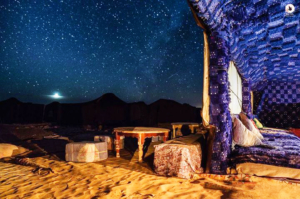 The bivouacs: the camps are a set of curtains, Bedouin, nomadic or Toureg, the so-called Khaïma. The most beautiful way to get in contact with the desert is to stay overnight in one of the typical nomad bivouacs of Morocco, where you can taste local dishes of the desert, listen to the music of the desert and of the camel under the starry sky, surrounded by the silent breath of the Sahara. The Khaïma was originally used by tribes or nomadic pastoralists. These black curtains called "bayt esh-shacr, literally' houses of wool", are made of very thick fabrics, adorned with geometric patterns. The roof is formed by a fabric composed of bands of woven wool with the frame craft, wool (flij), sewn to the edges. The assembly of bands of wool is supported by a wooden frame and wire and pickets. Meals will be in local restaurants and in the camps, with typical cuisine Maghreb. If the traveler would like to enjoy the Moroccan hospitality, they may be invited with local families.
---